2019 kootenay music award recipient
best rhythm and blues song
press quotes
"Hyatt is one of those young blues singers who is likely to be compared to Bonnie Raitt, with an equally fervent voice and vocal delivery that always works her music hard and clean, with just the right raw touch around the edges." Elmore Magazine
"A real heart full of soul." Jazz Weekly
"Strong soul-fueled vocals, background vocals galore, funky rhythm guitars, horns, atmospheric keyboards and feel good lyrics it's all here along with clean production values." Blues Blast Magazine
"Solid, original blue eyed soul"​ Midwest Record
"Not only is Hyatt a singer with a Bonnie Raitt-style vocal range, she is a monster bassist as her playing throughout the album proves." The Vancouver Sun
"In the core of each of the tunes included in Wild Heart, Hyatt's voice shines like the brightest of the stars in a clear night." Bluebird Reviews
"Wild Heart has groove and soul by the bucket load, as refreshing as jumping in the Kootenay River on a hot summer day." The Rock Doctor
"Sunny Day in January," indeed—the entire album is a Master Blaster of Wonder-jams." Fervor Coulee
"Her songs are well written and her smooth, soulful and emotive voice showcases them very well indeed." Maple Blues Magazine - John Valenteyn
"There's a confidence and an assurance of her craft in Wild Heart that testifies: This is an artist who has arrived at the peak of her powers." - Art Joyce - Chameleonfire
"Holly has all of the notes, and sings them effortlessly". One Love, Blue Barry - Smoky Mountain Blues Society, Tennessee, USA
"This Canadian Holy Hyatt is a singer-songwriter, but one of stirring and heavenly-feeling rhythm 'n blues." Rootsville, Belgium
"This is really a super release with rich vocal lead throughout." Bman's Blues Report
river flows press 
 "I fell in love with her soulful vocals." Caesar Live N Loud, music blog  
"This is great tier Soul song with some of most beautiful vocals I've heard all year. River Flows is a textbook definition of a feel-good song!" And Justice for Reviews  
"The retro feeling, classic single from the British Columbia based artist beckons you feel it deep inside." Come Here Floyd  
"The song soothingly curves its way to the listener's heart, thanks to the singer's powerful vocals." Aipate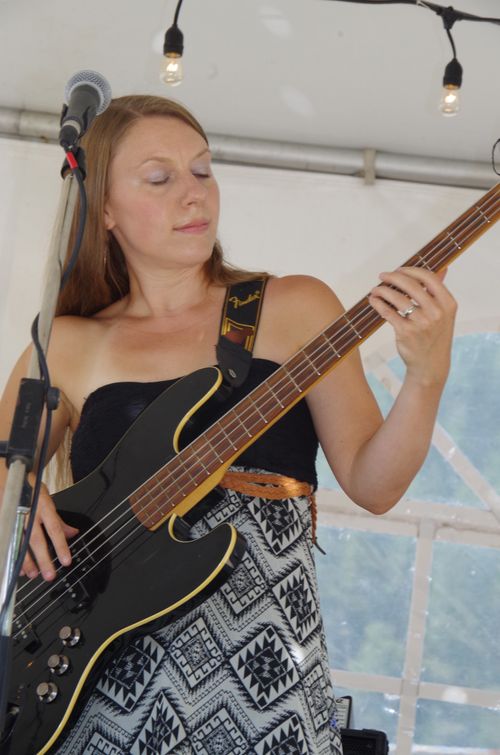 wild heart press
"From Canada comes Holly Hyatt, a young lady with one of those surprisingly spirited releases that simply crosses musical divides with an understated simplicity and style. Funky, blues-infused stuff, Hyatt's soulful delivery is nicely matched by some stinging soul-based backing." Elmore Magazine http://www.elmoremagazine.com/2019/05/reviews/albums/holly-hyatt?fbclid=IwAR24M4MMTRU2M-eGR_pPcnyqBd-AfdiawIeDCDaQDg7Nx18xfsiMocMT3PI
" One listen to the title track of this 12 song album and you get sucked right into the groove and can't help but move." The Vancouver Sun https://bandzoogle.com/controlpanel/visual_editor#/pages/2086378
"Out of British Columbia, Canada comes Holly Hyatt the blue-eyed soul sister singer-bassist" Blues Blast Magazine http://www.bluesblastmagazine.com/holly-hyatt-wild-heart-album-review/
"Wild Heart is a wonderfully honest expression of the many musical talents of an artist like Holly Hyatt, able to translate 70's sounds in a more contemporary fashion through her own personal and distinctive style. One of those records that you just fall in love with." Bluebird Reviews https://www.bluebirdreviews.com/reviews/5-album-reviews/923-holly-hyatt-wild-heart
"Forty-five minutes of feel-good, soul-drenched, roots and blues." Fervor Coulee https://bandzoogle.com/controlpanel/visual_editor#/pages/2086378
"With a little effort you could picture her as Bonnie's little sister---Bonnie Bramlett that is. Solid throughout." Midwest Record http://midwestrecord.com/MWR1520.html
"Just listening to the funky soul songs like "Midnight Moonsong", the beautiful soulful "River Flows" or the beautiful ballad "Gravity",  gives goose bumps element. Holy is ready for you now ;-)" Rootsville, Belgium http://rootsville.eu/2019/album%20reports%202019/albums%202019/holy%20hiatt.html
"An attractive soul blues called "Gravity" is another one of hers that deals with falling in love and features her beautifully multi-tracked vocals on the chorus." Maple Blues Magazine http://torontobluessociety.com/may-2019-holly-hyatt/
"There are some beautiful soulful ballads on the album, but perhaps the most beautiful one is 'Gravity' and Holly plays a very large part in this with her heavenly lush vocals and her wonderfully beautiful bass line." Concert Monkey http://www.concertmonkey.be/albumreviews/holly-hyatt-wild-heart
 Holly Hyatt's new album, Wild Heart, is a breath of fresh air and a new direction for this talented singer and bassist. Fans will already be familiar with her rich bluesy voice and her work with father and musical collaborator Jon Burden in their Holly and Jon recordings. Her vocals remind the listener of the great women blues singers, and the band's latest album Shufflin' the Blues dug deep into the classic blues catalogue. But this time out, Hyatt is charting her own creative path, delving deep into the glory days of Motown R&B and funk, with a little light pop thrown in. 
Producer Clinton Swanson, one of the West Kootenay's top saxophone players, produced the recording. Hyatt's new sound relies heavily on his ability to propel her original melodies with graceful horn sections, occasionally spiced up by his tasty sax solos. Although Burden contributes some guitar, the instrument is used here primarily for texture, not as a solo instrument. He rises effortlessly to the challenge, pushing his rhythm through a wah-wah pedal to achieve a tight funk groove. 
It's nice to see Hyatt branching out into a breezy R&B feel, exploring subtle tonal shadings throughout the album. According to Burden, Hyatt recorded all of the vocals on the album, seamlessly emulating an entire backup vocal section that at times sounds like it came straight out of Motown. Anchored in deep personal ties to her home on the Slocan River, songs like the single River Flows are a reminder that nature isn't something outside us—it's our lifeline. The song has the grace and flow of not only her idyllic Slocan River home but distinct echoes of her musical mentors, reminiscent at times of the great Mavis Staples. River Flows won Best Song in the R&B category of the 2019 Kootenay Music Awards. 
All the songs on Wild Heart were written by Hyatt. Her lyrical abilities have clearly grown and matured, touching on her experiences as a mother, wife and artist. Rather than bewail the world's many injustices, her need to "speak my truth" as an activist is tuned to a feelgood key, as on songs like Create Unity. Her vocal harmonies and chorus raises this song to anthem status. She wants us to feed the light in our souls and have fun doing it, as in songs like Sunny Day in January or Get Funky. 
Hyatt and Swanson wisely opted for an organic approach to the instrumentation, and this achieved to great effect with keyboard player Brandon Smith. His use of piano, organ and Rhodes keyboard are especially effective in creating the groove. Although synthesizer is listed as one of the instruments, it's not intrusive but blended into the mix. Unsurprisingly, Hyatt contributes rich, slinky bass lines throughout the album. It's no wonder she chose R&B and funk for her first solo album; it's a genre made for bass players. 
There's a confidence and an assurance of her craft in Wild Heart that testifies: This is an artist who has arrived at the peak of her powers. Hyatt will perform songs from the album at the Firevalley Concert Series in Edgewood on April 28, 8 pm; the Kaslo Hotel May Day party May 17 and 18, 8 pm; Elephant Mountain Literary Festival, July 12; and Starbelly Jam July 19. To see the full tour schedule visit https://hollyhyatt.com/shows. 
The album will be officially released April 26 through www.hollyhyatt.com, iTunes, Spotify and CD Baby. Local outlets include Packrat Annies (in Nelson), or you can get signed copies at Holly's next live show. -Art Joyce - The Valley Voice
follow my musical journey